Hi Friends,
So lots going on lately, as you probably remember from my '
blogging note
' post, however, this weekend we've been working away once again, and I managed to finish my vanity and vanity chair. I love it, and I can't wait to be able to actually use it now!
You might remember me introducing you to my $10.00
vanity
that I "picked" from Kijiji last summer, here, or my antique
vanity chair
that I also found on Kijiji for $10.
Let me remind you of the "Before's" anyways...
Here's what I started with:
and here's how it turned out:
I spent some time fixing it up and painting it ("Simply White" by Benjamin Moore). I also added some

new hardware

to the drawer that I found at Home Sense:
and now it looks like this:
Added a few accessories for now...
I found this mirror at a second hand store for $7.00. Its super heavy and has a solid wood frame- someone had painted over the previous finish, but I think that with some paint, it will look perfect over my vanity....
I'll update you all once I've painted and refinished the mirror, but for now, I'm looking forward to having a nice spot to sit in our bedroom to get ready :)
Total cost for the make-over:
Vanity Table (Kijiji)- $10.00
New handle for drawer (Home Sense)- $11.00
Vanity Chair (Kijiji)- $10.00
Fabric for Chair (Tonic Living)- remnant from curtain fabric
Paint (Home Depot)- $10.00 (HD coupon)
Mirror (second hand store)- $7.00
Total: $48.00
Other Accessories (already owned):
Flowers (Home Sense)
Jewelry Drawer (Home Sense)
Vanity Tray (Second Hand Store- $0.99)
All I need now, is a light, a small mirror and to fix up the drawer, so I can actually put all of my make-up inside :) I'm planning on using some wallpaper that I'll have left over from our bedroom closet make-over (post coming soon!), to do the drawer (I know no-one will ever see it but me, but that's ok right?!)
So what do you think?!
What else would you make sure to have on your vanity table?
Linking up to: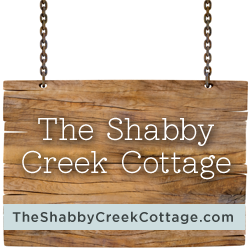 Featured on: